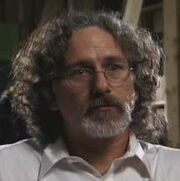 Michael DeCoto was a film professor at Montgomery College.
Biography
Edit
Michael's film background was in documentaries, so when he met Heather Donahue in one of his classes and learned of her desire to find her documentary "voice," she immediately reminded him of himself at her age. He considered her to be one of the best students he ever taught.
In April of 1994, Heather submitted a proposal to create a documentary about the Burkittsville area legend of the Blair Witch. She intended to tell the story of the Blair Witch through interviews with Burkittsville natives, local law enforcement officials on the Rustin Parr case, and folklore experts, as well as hike into the Black Hills Forest for a weekend to visit some of the locations associated with the legend. She brought on Joshua Leonard as the director of photography and his friend Michael Williams to do sound.
DeCoto wasn't too keen on Heather working with Josh because of his negative attitude, but he'd seen them work well together in the past. He also somehow failed to notice the part of her proposal that outlined a trip into the woods. Because of this, he later harbored some guilt.
The three students went missing in the Black Hills Forest and were never found.
In early 1999, Michael was interviewed for the documentary Curse of the Blair Witch, in which he gave insight into the academic personalities of Heather Donahue and Joshua Leonard.
Community content is available under
CC-BY-SA
unless otherwise noted.