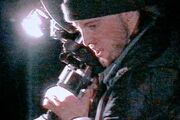 Joshua "Josh" Leonard (1975 – 1994) was a film student at Montgomery College who disappeared while filming a documentary on the Blair Witch with friends Heather Donahue and Michael Williams. Josh was brutally murder by losing his tongue and several teeth.
Biography
Edit
Josh was friends with Michael Williams and they often went out drinking together.
The Blair Witch Project
Edit
In April of 1994, Josh was approached by Heather Donahue to be the director of photography for a documentary she was doing on the legend of the Blair Witch. They'd previously worked on several projects together and got along well, so he agreed to the assignment, recruiting Mike to do the sound.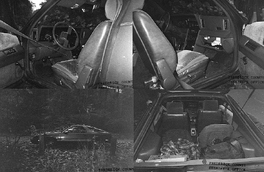 The night before heading out on the project, Josh fought with his girlfriend Lisa Toller because she didn't want him to go. She'd only met Heather once, but had a bad feeling about her.
Josh, Heather and Mike headed into the Black Hills Forest to visit some of the locations associated with the legend, but none of them ever returned. After ten days and thousands of man-hours, the only piece of evidence found was Josh's car. He supposedly died while being a watcher outside the tent. Heather Donahue and Michael Williams heard Joshua Leonard yelling for help at night. It seems the Blair Witch had tortured and ultimately killed him. The next morning Heather Donahue found Joshua's bloody teeth and gums wrapped in his shirt, but nothing more was said about it.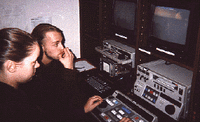 Josh's "Blair Witch Mix" Mixed Tape Found
Edit
Josh's car was found four days after he disappeared, parked on Black Rock Road. A search of the car turned up a mixed tape of mostly goth rock and industrial tracks to commemorate their journey into the Black Hills Forest.
"The Order of Death" – Public Image Ltd.
"Kingdom's Coming" – Bauhaus
"Don't Go to Sleep Without Me" – The Creatures
"God Is God" – Laibach
"Beware" – The Afghan Whigs
"Laughing Pain" – Front Line Assembly
"Haunted" – Type O Negative
"She's Unreal" – Meat Beat Manifesto
"Movement of Fear" – Tones on Tail
"The Cellar" – Antonio Cora