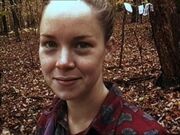 Heather Donahue (1972 - c. October 28th, 1994) was a film student of Montgomery College who disappeared while filming a documentary on the Blair Witch.
Biography
[
]
Childhood
[
]
Heather was the daughter of Jim and Angie Donahue, the granddaughter of Randy and Sadie Donahue, the sister of James Donahue and the cousin of Cade Merrill.
Heather lived in Montgomery County, Maryland, and attended Wheaton High School. During a school production of Romeo and Juliet, she became best friends with Rachel Meyer.
Heather later attended Montgomery College, studying filmmaking. Michael DeCoto, the film professor, considered her to be one of the best students he'd ever taught. He considered her committed, energetic, and very creative. 
The Blair Witch Project
[
]
Main article: The Blair Witch Project
In April of 1994, Heather submitted a proposal to Michael DeCoto to create a documentary on the Burkittsville-area legend of the Blair Witch. She intended to tell the story of the Blair Witch through interviews with Burkittsville natives, local law enforcement officials on the Rustin Parr case, and folklore experts.
The heart of the documentary would be a weekend hike into the Black Hills Forest to visit some of the locations associated with the legend.
Because she had worked with him on several projects in the past and got along well, Joshua Leonard was approached to be the director of photography and he brought along his friend Michael Williams to do sound.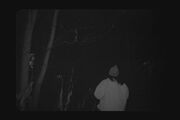 The three students disappeared in the Black Hills Forest and were never found. After ten days and thousands of man-hours of searching, the only piece of evidence found was Josh's car.
Film Footage
[
]
In October 1995, a University of Maryland anthropology class uncovered the filmmaker's footage buried in the sterile under the foundation of a colonial-era house. Federal examiners analyzed the footages.
Journal
[
]
Heather kept a journal during the filming of the The Blair Witch Project. It was recovered along with the film footage.
Blair Witch Volumes (Video Game series)
[
]
Heather is briefly seen being killed.
Twenty years after her disappearance, her brother James begins his search into finding his missing sister, only to suffer the same fate as Heather. Though her ultimate fate is unknown, an apparition of Heather did briefly manifest to James, with her white cardigan reduced to rags and a hat on her head.
Gallery
[
]
Trivia
[
]
Heather was not the youngest of the 3 as sometimes assumed - she was born 1972. Josh 1975 and Mike in 1970.