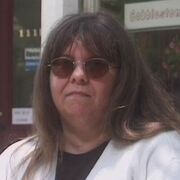 Dottie Fulcher was a resident of Burkittsville, Maryland who helped out on the search for the three missing film students in 1994.
Biography
Edit
Dottie was a very spiritual woman who believed that Elly Kedward still inhabited the Black Hills area and chooses times to appear to people.
Search Party
Edit
When Heather Donahue, Joshua Leonard and Michael Williams went missing in the Black Hills Forest in October of 1994, Dottie joined the search party which came up empty. The search was called off ten days later and she tried unsuccessfully to convince Sheriff Cravens that there were still clues out there and they should keep looking. She feels that the police saw the Blair Witch in their search and don't want to talk about it.
Dottie still goes out looking for the filmmakers from time to time.
In early 1999, she was interviewed for the documentary Curse of the Blair Witch.