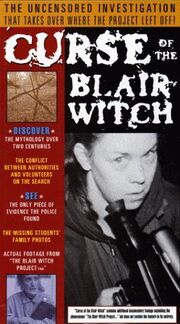 Curse of the Blair Witch is a mockumentary about the Blair Witch legend and the three filmmakers who disappeared in October of 1994. It first aired on the Sci-Fi Channel on July 11, 1999 as a promotional prelude to the release of The Blair Witch Project on July 30, 1999.
In addition to original interview footage, Curse of the Blair Witch culled footage from several other places including:
The following people were interviewed for the documentary:
Several other people appeared in Curse of the Blair Witch, through other footage. They include:
Community content is available under
CC-BY-SA
unless otherwise noted.