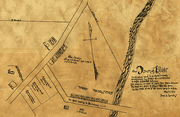 Blair, also known as Blair Township was a town in Maryland which was abandoned in 1786 and later re-established as Burkittsville in 1824.
Geography
Edit
Blair was located in western Maryland. A shallow creek ran by on the east boundary of town and a railroad ran by in the north. The Black Hills Forest was located just outside of town. The town encompassed three thousand acres.
Blair was founded in 1634 to protect the western approach to Baltimore from attack from Indians.
In the winter of 1785, several children of the town accused Elly Kedward of luring them into her home to draw blood from them. She was found guilty of witchcraft, banished from the village during a particularly harsh winter, and presumed dead.
The following year, all of Kedward's accusers, and half of the town's children, had vanished. The townsfolk feared a curse and fled as soon as the weather broke, vowing never to speak Elly Kedward's name again.
After the abandonment of Blair, the town fell into legend. People spoke of a boarded up town in the woods which had fallen under the curse of a witch, forcing the residents to leave abruptly. There were also rumors of a cemetery filled with the gravestones of children.
Blair was later rediscovered and settled as Burkittsville in 1824.
Residents
Edit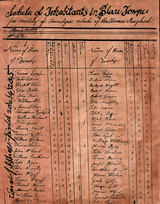 The following people are known to have lived in Blair or Burkittsville. The parentheses indicate the year(s) they are known to have lived there.
Community content is available under
CC-BY-SA
unless otherwise noted.